Welcome to City of Lafayette, Minnesota

City of Lafayette, Minnesota… A Great Place to Live!

The city of Lafayette is a great small rural community; whether across the street or across town, everyone is considered a neighbor!

December is here!! Along with the hustle and bustle of the holidays, there are also upcoming events such as Santa Day on December 12th and the holiday lighting contest! The weather is warm, so there are hopes of more holiday lights and decorations to see!

Happy holidays to all!

The planning for our 125th (Quasquicentennial) Celebration is well on its way! Watch for a date to meet in the new year.

The first 150 memorial/veteran pavers were placed and they are beautiful! The park Dedication Ceremony for the renamed Lafayette Memorial Park was held on Sunday, September 17, 2023 with over 200 in attendance! Stop and take a stroll to this newly updated area next to the community center. Paver orders are an ongoing program. Stop at the city office or bank for an order form or it can be found in the Community Tab - Legion Post #300 page.

" The City of Lafayette is an equal opportunity provider"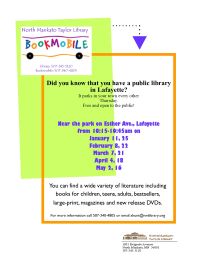 Bookmobile Schedule January - May 2024
Did you know Lafayette has a public Library? The Bookmobile parks in Lafayette every other week!
Check it out!
For more information call 507-340-4805 or email ahunt!MNlibrary.org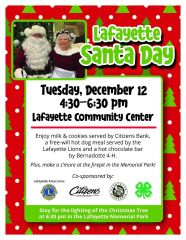 Lafayette Area Lions - Santa Day 2023
Tuesday, December 12, 2023 from 4:30 to 6:30pm in the Lafayette Community Center
Enjoy milk & cookies served by Citizens Bank, a free-will hot dog meal served by the Lions and a hot chocolate bar by Bernadotte 4-H.
Plus, make a s'more at the fire pit in Memorial park!
Stay for the Christmas Tree lighting at 6:30pm in the Memorial park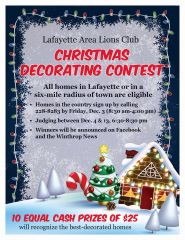 Lafayette Area Lions Club Christmas Decorating Contest
All homes in Lafayette or in a 6-mile radius of town are eligible
Homes in the country sign up by calling 228-8283 by Friday, December 3 (8:30 am to 4:00 pm)
Judging between December 4 & 13, 6:30-8:30pm
Winners will be announced on Facebook and the Winthrop News
Ten equal $25 cash prizes will recognize the best-decorated homes!
Featured News
Lafayette Memorial Park Dedication ceremony
8/28/2023
The Lafayette Legion Post #300, City of Lafayette and Lafayette Band would like to invite you and your family to share in a special dedication ceremony of the "Lafayette Memorial Park", sponsored by the Lafayette Legion #300.
The ceremony will take place on Sunday, September 17, 2023 at 4:00PM...
Volunteers needed for the Paver Project!!
8/7/2023
Looking for volunteers for tomorrow morning -
Tuesday, August 8, from 8 am until noon!
If you are able to help, please show up at the newly renamed Lafayette Memorial Park!
Last fall, the Legion took orders and 150 memorial pavers were purchased. This is the first installation of the pavers....
Schedule Back to School Immunizations Now
7/24/2023
For Immediate Release
July 24, 2023
Contact: Bree Allen Breanna.allen@co.nicollet.mn.us
Cassandra Sassenberg Cassandra.sassenberg@co.nicollet.mn.us
Schedule Back to School Immunizations Now
With the start of school just around the corner, Mankato Clinic, Mayo Clinic Health System in Mankato,
and...